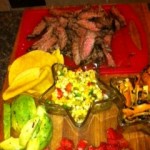 Ask and you shall receive. What's for supper at the Mullins House?
I try and keep it as simple as possible, shopping from local growers as much as I possibly can down at the local shed of the Dallas Farmers Market. When we go to the G store, we hit the produce, a few things from the dairy, then off to the fresh meat/seafood market.   Now we do start our day with some sort of physical exercise.  This morning I was in the pool doing 1 hour of water aerobics and Thomas was mountain biking at Northshore. I am a firm believer that 80% is what you eat and that you are what you eat.   We eat fresh whole live foods and yes we do eat dessert.  I use Olive Oil, Balsamic Vinegar, Fresh Lime Juice, Sea Salt, & Cracked Pepper pretty much each meal.  No I don't cook up the fancy  gore-met meals around here.  I was just up in New York City and they asked me why I cook the way I do beings that I went to Culinary School.  Well, that's real simple.  Your HEALTH is your WEALTH.
Ok enough about that let's get to tonight's dinner of Fajita Board made on the grill. We cook it up and mix a little of this and that and throw it down on my wood bench that my husband made for me and we get all over it like a pack of dogs on a 3 legged cat.
We started off by putting some olive oil, fresh lime juice, sea salt and cracked pepper on the veggies. I just throw it all in a poly bag.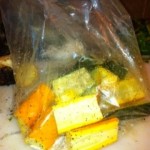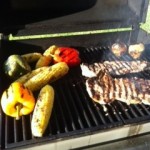 This morning  I marinated the skirt steak in buttermilk, olive oil, fresh garlic, fresh rosemary, fresh lime juice, and cracked pepper for a total of 8 hours, under refrigeration. Fire up the grill and it's time to rock and roll.Skirt Steak I grill a total of 4 minutes each side (med rare) then wrap in foil and let it rest for 15 minutes. Then slice against the grain. Grill veggies to your likin'.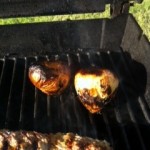 Just throw on Vidella's whole (bare naked) and let them cook (charred). Let rest 10-15 minutes before you cut into them.  Remove charred skin or maybe you might like it. I learned this trick from my nephew Little Michael.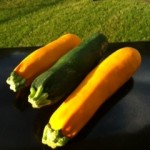 Yellow & Green Zucchini and Peaches from Lemley's Produce & Farm out of Canton, TX. You can find them at the local shed at Dallas FM. My daddy was from Canton, I grew up playing in the band at Canton, and Mr. Lemley is a very nice man from Canton.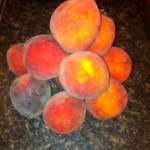 So everything is grilled, let's put it all together. Slice corn of the cob and slice peppers. Chop up the onions. Mix together and add juice of 1/2 lime or more if you like, little olive oil, chopped cilantro, sea salt, and cracked pepper.
I did a Julienne slice on the Squash, sliced up a Avocado, chopped up some Tomato. Heat up some corn tortilla's sprayed with Pam on each side until soft. Now it's time to throw it all down on the board. I just happen to have some Star dishes, cause I Like Texas, that you will notice the Corn Salsa and the Julienne Squash is in.
Ooops almost forgot dessert!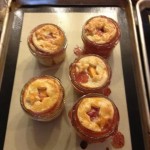 Star Peach Cobbler in a Mason Jar. My Pastry Chef friend Mrs. Janet Monroe who is the PC at Eatzi's came over and we baked it up all day long. Saved a few of these for dessert for tonight's dinner of Fajita Board.
Bonus Round:
Chips are great with the corn salsa. Make your own by spraying each side of corn tortillas with Pam and sprinkle one side with a little Sea Salt. Bake in preheated 350 oven 15 min, turn them over and bake another 5-10 min or until hard in the middle. Can be made day before and when cooled wrap in plastic wrap.