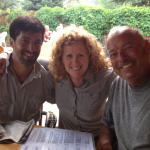 Hello everybody. I am back from my 2 weeks in CO and Utah. I will be posting pics and highlights of the San Juan 200 mountain bike adventure soon. While in Crested Butte, CO along with our good friend Mr. Tom and his dog Mickey, Thomas and I visited Three Bowls Homemade Ice Cream several times for the Espresso Milk Shake. It was awesome and a great afternoon little pick me up. Here is how you can make one for yourself and enjoy.
Espresso Milk Shake
2 scoops of Ice Cream ( I had chocolate and choc chip)
1/2 – 3/4 cup milk (judge consistency)
1/4 cup coffee concentrate ( recipe below)
Place all in blender and mix until you have a milk shake.
Cold Pressed Coffee Concentrate
Ingredients
12 ounces coarsely ground fresh coffee beans
Special Equipment
Cheesecloth
Preparation
Place ground coffee in a large container. Gradually add 7 cups cold water. Stir gently to be sure all grounds are moistened. Cover with a layer of cheese-cloth. Let stand at room temperature for 15 hours or more.
Remove cheesecloth and use it to line a fine-mesh sieve set over a large pitcher. Pour coffee through sieve into pitcher (do not stir); Discard cheesecloth with solids.
Line same sieve with a large coffee filter and set over reserved mason jar. Strain coffee through sieve into jar. (It may take up to 45 minutes for all of the coffee to drip through; do not stir or coffee may become cloudy.) Cover and chill. Coffee concentrate can be made 2 weeks ahead. Keep in refrigerator.
Here's another drink

Ice Cold Coffee Latte
Fill a glass with ice. Dilute 1 part coffee concentrate with 1 part milk.
Enjoy Yourself!