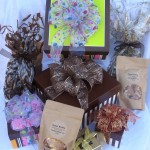 In order for your Chef Connie Shipped Gift Box to arrive before Christmas, you need to have your order placed by Dec 13th. Last day for ground shipping for out of state is December 17th.& for Texas December 18th.
Please let me know ASAP for local orders. Everything is custom made so the earlier the better.
Yes you can sub mini cakes in the 6 pack to go for the Banana Bread.
Yes I can custom make you a gift box if you want to do something different than the ones on my store.
Yes my Rosemary Garlic Bread is available for all of you that are doing Wine, Fruit & Cheese baskets.
The best way to reach me is my contact on my website and I will get back with you as soon as I can. Thanks everybody and Happy Holidays.