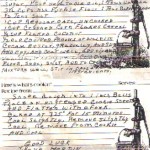 Today's Family Friday Recipe comes from my Aunt Irene who was married to my mama's brother, my Uncle Joe and who my brother Floyd Joe was named after. My mama comes from a large family of 11 kids. Back when I was growing up Sunday's were family visit day. As a little girl visiting the Aunt's & Uncle's was always fun because I got to see my cousins and there was always a cake, pie, or cookies. My Aunt Irene was known for her cookies. Her granddaughter Amanda had this to say…
I have a lifetime of memories of cooking with my grandmother, Gigi. She felt that preparing a meal was not only an act of love but an event to be celebrated. I work everyday to pass on the family meal tradition to my four boys. One of our staple sweet treats at Gigi's house was her famous Crispy Oat Cookies. Gigi would look for a reason to make them and they were always included in Christmas, Easter or 4th of July celebrations.
When my dad was battling cancer, he had a terrific staff of nurses during his extended hospital stay. One particular week he was craving Gigi's crispy oat cookies. I was happy to make and bring a batch to the hospital. Thank goodness they make a big batch! Every nurse that came in the room tried a cookie- and usually came back for seconds! And my job was born…. every Monday morning my brother would sit at the hospital with mom and dad. I would bake cookies and deliver them for my dad and the staff to enjoy.
Those months of baking cookies still hold sweet memories every time I bake for my boys now. I only hope they pass fond memories on to their own children one day.
Amanda Wallace
Recipe Crispy Oat Cookies
1 cup butter (softened)
1 cup sugar
1 cup firmly packed brown sugar
1 egg
1 cup vegetable oil
1 tsp vanilla
3 1/2 cup all purpose flour
1 tsp baking soda
1/2 tsp salt
1 cup regular oats, uncooked
1 cup crushed corn flakes cereal
1/2 cup flaked coconut
1/2 cup chopped pecans or walnuts
Cream butter, gradually add sugars and egg and beat until combined. Add oil and vanilla.
Combine flour, soda, salt and add to cream mixture and mix until combined. Stir in oats and remaining ingredients.
Shape dough into 1″ balls. Place on ungreased cookie sheet and flatten with a fork.
Bake at 325 for 15 minutes. Cool slightly. Remove from cookie sheet and cool completely.
Good Luck
Irene Hardin